Firefighter - C Platoon
2015
Fire Fighter Harron was hired with the Wildwood City Fire Department on June 1, 2015, from the New Jersey State Civil Service Fire List of Cape May County. Rich is a 30 year old lifelong Lower Township resident and is married with two great kids. Fire Fighter Harron is a high school graduate from Lower Cape May Regional High School and is currently pursuing his Associates Degree in Fire Science through Camden County Community College. Fire Fighter Harron is involved in the community in many different ways that serve our community and are as follows, Deputy Fire Marshal (Cape May County Fire Marshal's Office 2005-Current, Battalion Fire Chief with Villas Volunteer Fire Company and Past Fire Chief 2009-2014, Part Time Firefighter/ EMT for Cape May City Fire Department from 2007-2015 and President of the Lower Cape Chiefs Association. Fire Fighter Harron became a member of the Villas Volunteer Fire Company on March 16, 2000, enlisted as Junior Fire Fighter. Following in his father's path Fire Fighter Harron Completed the New Jersey State Fire Fighter Program in 2003 and still continues to attend the necessary training that is required of a successful fire fighter. Fire Fighter Harron has held every position in the Volunteer Fire Service elected by his peers based on his Training, Education and Experience. Fire Fighter Harron currently shares the responsibility for the public's safety for the men and women who operate under him as well as the community in which he serves. Fire Fighter Harron has been afforded great opportunities with continuing his education and experience through real emergencies not only locally but regionally. He has been a command officer for over 300 fire related emergencies to include 2 fatal fires. He was a strike team leader during Hurricane Sandy where he was deployed and responsible for 8 apparatus fully staffed and assigned to Seaside Heights for 30 hours. Fire Fighter Harron was a Fire Branch leader during three storms over the last 5 years in Lower Township and served Cape May City as Logistics Leader during a Line of Duty Death to assist with the planning of the services for the family and fire department.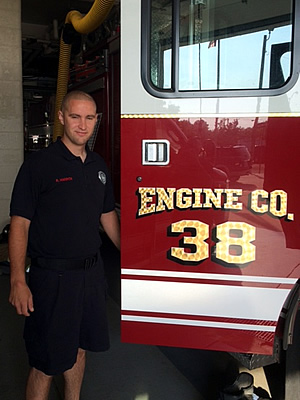 In 2005, Fire Fighter Harron began his investigative education and training with the Cape May County Fire Marshal's Office as an intern, where he completed two full years of attending fire scene investigations with County Investigators, watching and learning the process of elimination and how to complete an origin and cause investigation. August 21, 2007 Fire Fighter Harron was appointed Deputy Fire Marshall by the Cape May County Freeholders where he then completed a three week Fire Investigation Class at the New Jersey State Police Academy. Fire Fighter Harron is a NAFI Fire Investigator certification through the New Jersey Chapter IAAI and National Arson Fire Investigators. Fire Fighter Harron recently came from the Cape May County Sheriff's Department where he served 8 years. Rich was assigned to the Correctional Division and Completed a 16 week Corrections Academy held by the PTC. Rich was tasked with providing safety and security at the Cape May County Correctional Center for both staff and inmates with his fellow Officers. Fire Fighter Harron is now tasked to provide Public Safety alongside with his brothers for the City residents and visitors of Wildwood and is looking forward to becoming part of the Wildwood Fire Department family. Rich has been assigned to the C Platoon. Rich resides in Lower Township with his wife Kristen, daughter Payton, and son Rich.