.
Busy Thanksgiving Night Tour for 'A' Platoon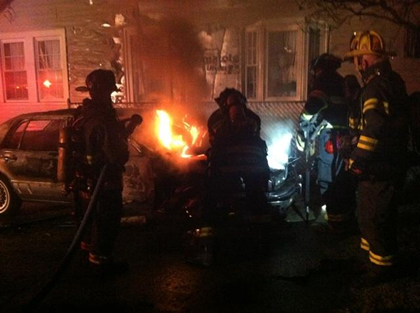 .
'A' Platoon had a busy night shift on Thanksgiving, November 28th. Early in the evening Engine 38 and Ambulance 390 responded to a head injury on Pine Ave. A Medevac helicopter was requested and a landing zone established at Maxwell Field to transport the patient to the trauma center in Atlantic City. At 01:32 hours Engine 38 was dispatched to 2720 Park Blvd. for a reported vehicle fire. Upon arrival Engine 38 found a vehicle well involved extending to an adjacent dwelling. Engine 38 quickly placed a 1-3/4" line in service to knock the fire and prevent any further damage to the residence. Due to the quick response and excellent Engine work damage to the dwelling was confined to the exterior. A second nearby vehicle also sustained some damage in the fire. The fire is being investigated by the WFD, WPD, and CMC Fire Marshal's Office.
2nd PHOTO
.
Department Training November 25th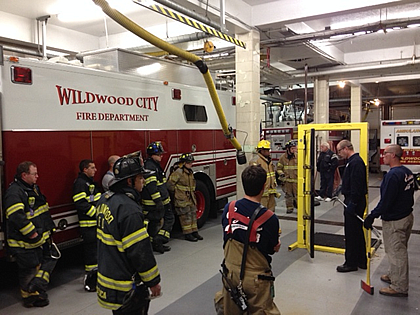 .
The WFD conducted a Department wide training session on Monday evening November 25th. The West Wildwood Vol. Fire Co. also participated in the training. The training session was divided among two stations. One station was forcible entry. Using the forcible entry door from the Cape May County Fire Academy members rotated through practicing forcing both inward and outward swinging doors. The second station consisted of firefighter drags/carries for firefighter rescue. Members reviewed various drags and carries utilizing tools, rope, and webbing. Also reviewed was the MAST sling link and use of the personal harness for FF rescue. Continual training allows members to hone and maintain their skills at the highest level at all times.
MORE PHOTOS
.
Captain Daniel Speigel Promoted to Deputy Fire Chief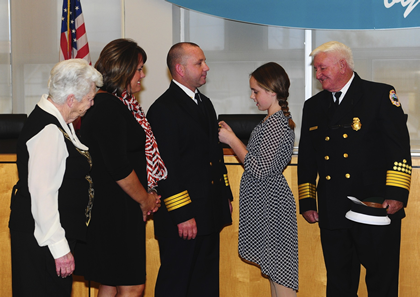 .
On Friday November 22nd, in front of a packed room of family, friends, and fellow firefighters, the City of Wildwood Fire Dept. promoted Captain Daniel Speigel to the position of Deputy Fire Chief. DFC Speigel was hired as a part-time firefighter in 1992 and then full- time in 1995. Daniel was promoted to Fire Lieutenant in 2001 and then Fire Captain in 2003. Daniel served as the Deputy Chief/Fire Official in 2010/2011 before taking a voluntary demotion back to Captain to prevent firefighter layoffs. Many members of DFC Speigel's family were present for the ceremony including his father, Retired Chief of Department Floyd Speigel. DFC Speigel's daughter pinned his badge on him for the ceremony. DFC Speigel is a Certified Public Manager, New Jersey Certified Fire Officer, Fire Instructor, Fire Official, Haz-Mat Specialist/On-Scene Incident Commander, and EMT. DFC Speigel regularly instructs courses for Kean University and the NJ Division of Fire Safety. DFC Speigel is a previous member and Rescue Specialist of NJTF-1 Urban Search and Rescue Team and responded to the September 11, 2001 attacks. Good luck to DFC Speigel in his new position.
MORE PHOTOS
.
Cape May County Career Firefighters Donate $33,000 + to Survivors of Cancer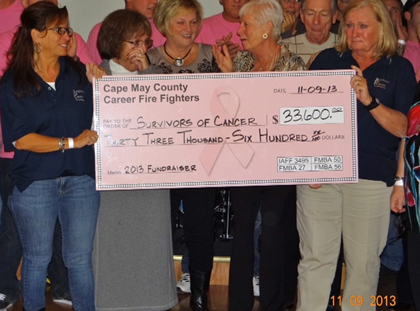 .
On Saturday November 9th a Beef and Beer was held at the Cape May VFW hall for the Survivors of Cancer. At the beef and beer the Cape May County Career Firefighters (Wildwood, North Wildwood, Cape May, and Ocean City) presented the Survivors of Cancer Inc. with a check for $33,600.00. This money was raised through T-shirt sales that members sold at various area events in September and October, The fundraising event was a huge success. Thank you to all those who helped and donated to this great cause. We look forward to another successful campaign in 2014.
MORE PHOTOS
.
B Platoon Responds to Sunday Afternoon Dwelling Fire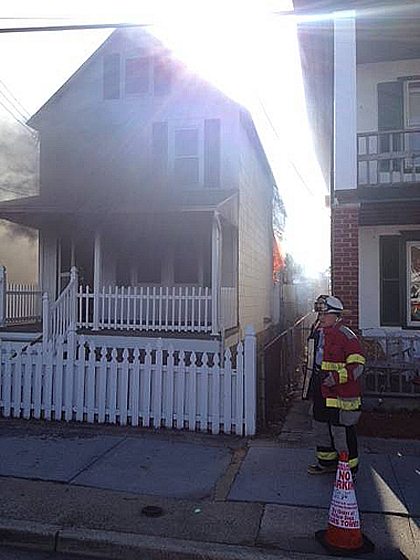 .
At approximately 13:40 hours on Sunday November 3, 2013 the Box Alarm was transmitted for a reported structure fire at 108 E. Youngs Ave. Engine 38 (B Platoon) arrived with heavy smoke showing from Side C of a 2.5 story wood frame private dwelling. A quick size up revealed heavy fire from Side C and Side D. Capt. Sacco (D-1) arrived, established command, and requested the all hands be transmitted. Engine 38 stretched a 1-3/4" line while NWFD Engine Co. 2 picked up the water supply. Rescue Co. 3 arrived and stretched the backup line. Deputy Chief Speigel (301) arrived on scene and assumed command of the incident. The main body of fire was quickly knocked down. Searches were completed and the building was found to be vacant. Companies opened up to hit numerous hot spots including the rear roof area. There was some radiant heat damage to the D exposure. Other units operating on the scene included Tower 51, Engine 37, West Wildwood FD Engine 21, Rio Grande FD Rescue 7298 (RIT). Rio Grande FD Ladder 7254 covered the city while Rio Grande Rescue provided EMS coverage. The fire is under investigation by the Cape May County Fire Marshal's Office. Units operated on the scene for about 2 hours before taking up.
MORE PHOTOS
.
WFD Conducts Large Area Search Drill at Former Murphy's Building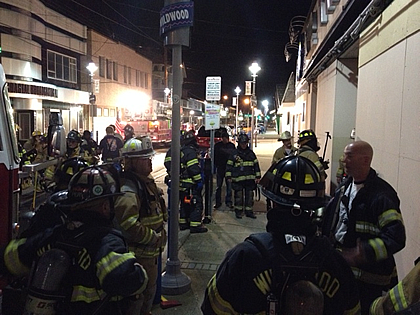 .
On Monday October 28, 2013 the Wildwood Fire Dept. conducted a Department Wide drill at the old Murphy's Store located at Wildwood and Pacific Ave. North Wildwood Engine Co. 2 and West Wildwood FD also participated in the drill. Rio Grande Rescue Squad provided on site EMS coverage and rehab services. All members learned various large area search techniques and procedures. Members had the opportunity to conduct large area search scenarios in this large former retail store in near zero visibility conditions as numerous smoke machines were utilized to create a realistic environment. The drill was a great learning experience for all members . Thank you to the Morey Organization for allowing the WFD to utilize their building.
MORE PHOTOS
.
"The Shore Fightin' for a Cure" Campaign in Full Swing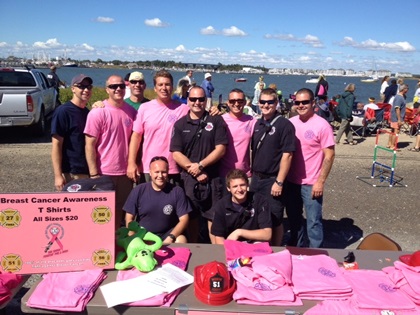 .
Wildwood FMBA Local 50 members have been keeping very busy the past two months at numerous local events and festivals selling the Breast Cancer Awareness T-Shirts. The sales have been going strong and we thank everyone who has supported the cause. Shirts are still available at Wildwood Fire Headquarters at 4400 New Jersey Ave. Shirts are also available at North Wildwood Fire HQ, Cape May City Fire HQ, and Ocean City Fire Dept.
Members will be selling shirts at the next event which is the Fabulous 50's celebration at Fox Park on Saturday October 19th from 12pm-5pm.
MORE PHOTOS
.
2 Nights, 2 Fires for C Platoon
.
C platoon had two busy night shifts on August 19th and 20th, handling fires both nights. On Monday August 19th shortly after 9:00 p.m. Engine 38 and Engine 2 were dispatched on a district alarm to 200 E. Cresse Ave. for reported smoke coming from a building. While enroute dispatch advised that they were receiving additional calls reporting the address as 207 E. Cresse Ave. Engine 38 requested dispatch to fill the box. Upon arrival Engine 38 found a 2.5 story wood frame occupied multiple dwelling with smoke showing from the second floor, B Side. Engine 38 investigated and found fire in a room in an apartment on the second floor. A 1-3/4" line was stretched and Engine 2 laid a supply to Engine 38. Engine 38's crew made entry and used the can to knock down the fire that was located in a bathroom. Members used the hoseline to complete extinguishment. Members quickly opened up to check for extension in the walls finding none. Excellent Engine Co. work prevented further damage to this large multiple dwelling. Engine 38 operated on the scene for about 1.5 hours before taking up.
.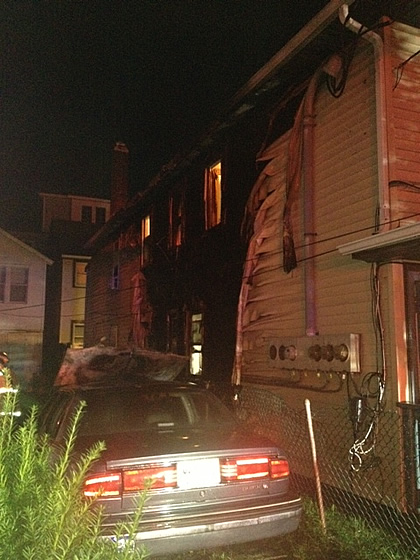 On Tuesday August 20th Engine 2 was dispatched to 101 W. 24th Ave. for a reported vehicle fire in a driveway. Engine 2 arrived and reported a vehicle heavily involved in between two buildings and requested the box filled. As Engine 38 was enroute, F-200 Chief Cole arrived on scene and reported a working structure fire. Engine 38 arrived second due and was ordered to stretch a 1-3/4" hoseline to the B side of the dwelling to extinguish the vehicle fire. Meanwhile Engine 2 stretched two lines, one to the driveway for the exterior of the dwelling and one to the second floor where fire had burned through windows. Excellent Engine work resulted in a quick knockdown of both the vehicle fire and the extension into the occupied mutliple dwelling. The B side of the mutliple dwelling sufffered significant fire damage. Engine 38 operated on the scene for about 2 hours before taking up. In addition to these two working fires, C platoon members also responded on two district alarms on their nightworks as well both of which were small kitchen fires.
MORE PHOTOS
.
Engine 38 (B Platoon) Takes In Afternoon North Wildwood Dwelling Fire
.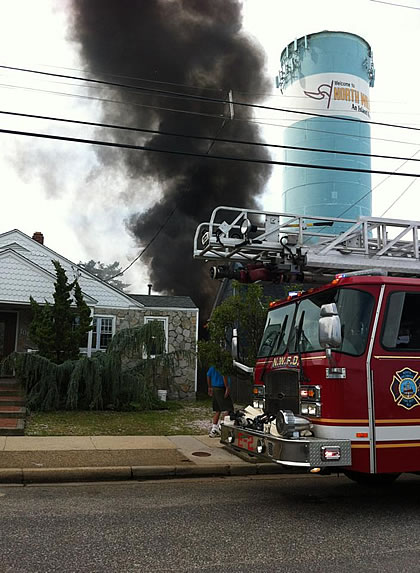 On Thursday August 15, 2013 shortly after 12:00 noon Station 2 Firefighter Brad Ladislaw heard a woman yelling and went outside. As he exited the station he noticed a large smoke plume coming from a house across the street. He immediately radioed dispatch to transmit a box alarm for a working fire. Engine 2 and Engine 38 were both on incidents at the time the fire was called in but were both in the process of clearing. While Engine 38 was responding there was a large smoke plume and therefore a the box was ordered filled for all Wildwood companies. F-200 Chief Cole quickly arrived and reported a 1-1/2 story wood frame private dwelling heavily involved. Engine 2 arrived quickly and began stretching lines. Members encountered heavy fire in the rear of the dwelling. Engine 38 arrived second due and laid a supply line to Engine 2. Engine 38 stretched a 1-3/4" line to the B side of the dwelling to protect the exposure on that side. Engine 38's crew was then assigned to enter the dwelling to complete fire suppression on Division 2. The dwelling suffered heavy fire damage while 2 exposures (a garage and cottage) and the dwelling on the B side sustained significant exterior damage from the radiant heat. Engine 38 operated on the scene for over 2 hours before taking up. While operating on this box, Engine 37 and Truck 51 had to clear and respond to a report of smoke from a building on E. Roberts Ave. in the City. Companies found a cooking fire that was qucikly brought under control.
MORE PHOTOS
CLICK HERE
to watch a
video:
"Its Better to be Safe than Sorry"
CLICK HERE
Important facts and figures
for residents
of the City of Wildwood
FMBA Local 50
Full color on Dark Blue
Shirts
Click for ORDER FORM
Sizes: Child L, Adult S, M,
L, XL, XXL, XXXL, XXXXL
$15.00 plus
$5.00 S&H